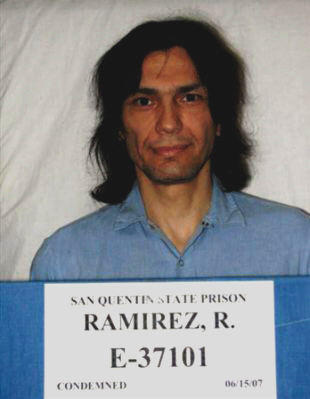 By San Quentin State Prison, California Department of Corrections and Rehabilitation - [1], Public Domain, https://commons.wikimedia.org/w/index.php?curid=19200598
Richard Ramirez
The Nightstalker
Summary
Name: Richard Leyva Muñoz Ramírez
Born: 29th February 1956 in El Paso, Texas, USA
Nicknames: The Nightstalker, The Walk-In Killer, The Valley Intruder
Modus Operandi: Home invasion, any man in the house would be shot in the head whilst asleep, he then bound and raped any woman in the residence before ransacking the house for valuables.
Date Apprehended: 31st August 1985
Died: 7th June 2013 from B-Cell Lymphoma
Childhood
Born in Texas as the youngest of 5 children to Julian and Mercedes Ramirez. Richard and his siblings were often beaten by their father, an ex-cop from Juarez, Mexico.
As a toddler, Ramirez suffered two major head injuries, the last leaving him with epileptic seizures which continued up to puberty.
His older cousin Miguel "Mike" Ramirez influenced a teenage Richard in various morbid ways. As a Vietnam veteran, Mike often shared gruesome stories about his abuse of women, showing Polaroid photos of his victims, one where he posed with a severed head. He also introduced Richard to marijuana at a very young age.
Richard was present when Mike shot his wife in the face during an argument, killing her. He was close enough for her blood to spatter on his face.
He dropped out of school before the tenth grade, harbouring an interest in Satanism. He moved to California in 1982.
First Murder
Not connected to Ramirez until DNA placed him at the crime scene in 2009, his first murder was of 9 year old Mei Leung on April 10th 1984. She was found hanging from a pipe in the basement of the building Ramirez was a resident of at the time. The young girl had been raped, beaten and stabbed. It is said that there was a likely accomplice, though the suspect has not been named by police due to their age at the time of the crime and will probably never see trial as there is insufficient evidence.
Ramirez didn't need or want an accomplice for the streak of murders, rapes and break-ins that earnt him his nickname of "The Night Stalker".
Nightstalker Murders (and other crimes)
Jenny Vincow, 79. Found murdered in her apartment on June 28th 1984. She was asleep when in the early hours of the morning, Ramirez broke into her apartment in Glassell Park, Florida and stabbed her multiple times. So fierce were his actions that he nearly decapitated her.
His fingerprints later connected him to this crime.
It wasn't until March the next year that The Nightstalker, or as he was known at the start of this spree, "The Walk-In Killer" or "The Valley Intruder" would drastically decrease the time between his crimes. (Unless stated, these crimes took place in areas of Los Angeles.)
It was March 17th in 1985 when Ramirez, seemingly at random, shot at 22 year old Maria Hernandez (aka Angela Bar) outside her home in Rosemead. Attempting to hit her in the face with his shot, Hernandez miraculously survived the attack after deflecting the bullet with the car keys she carried in her hand; she had instinctively raised her hands to her head to protect herself.
34 year old Dayle Okazaki also lived in the house, crouching behind a counter in the kitchen when Ramirez entered; she eventually raised her head above to see if he was still present. He was. He shot her in the forehead from only a few feet away, killing her instantly.
Leaving the scene, Ramirez headed towards Monterey Park, here he found 30 year old Tsai-Lian "Veronica" Yu in her car stopped by the side of the road, he pulled her out onto the floor shooting her twice before fleeing. Yu was found by a passing police officer but died in the ambulance on the way to hospital.
Police knew they had a serial killer at large after the attack on the Zazzarra's ten days later.
Ramirez had entered the property and his first action was to shoot Vincent Zazzarra, 64, dead. The man had been asleep. Promptly waking his wife Maxine, 44, Ramirez dragged her out of bed and bound her, demanding to know where they kept their valuables. Whilst Ramirez was occupied searching for anything worth stealing, Maxine slipped out of her restraints and retrieved an unloaded shotgun from under the bed. Ramirez turned to face the barrels and angered, shot her three times. He would go on to mutilate her body with a large knife, carving a "T" into her breast. Squandering what valuables he could find, Ramirez left with Maxine's eyeballs in a jewellery box. He had gouged them out post-mortem.
The only evidence police had was a set of shoeprints left outside the house.
The Nightstalker returned to Monterey Park on the night of May 14th 1985. He entered the Doi's residence late at night, again, planning to take out the man of the house first. Bill Doi, 66, was up and heard the intrusion, however when Ramirez got to the bedroom Bill hadn't quite got to his own gun before he was shot in the face. Ramirez brutally beat the man unconscious after the gunshot hadn't killed his victim.
Bill's disabled wife Lillian, 56, was in her own bedroom when Ramirez attacked her husband. Ramirez ransacked the house, but didn't leave until after he had raped the elderly woman who he'd bound with thumbcuffs. Bill Doi later died of his injuries. Lillian Doi survived.
Mabel "Ma" Bell, 83, and her sister Florence "Nettie" Lang, 81, lived together in Monrovia. Late at night on May 29th 1985 Ramirez entered their home. Choosing to use a hammer he found upon breaking in, Ramirez mercilessly bound and bludgeoned the sisters. He proceeded to torture Bell by electrocuting her before raping Lang. He used a lipstick to scrawl pentagrams on the walls and his victims.
Both women were found comatose some days later, Bell did not survive her injuries.
The very next night Ramirez broke into Carol Kyle's house in Burbank. At gunpoint, he forced the 42 year old mother and her 11 year old son into the same room where they were bound while he ransacked the house for valuables.
Once he'd collected what he could find, Kyle's son was locked in the closet while Ramirez sodomized his mother in the same room. Before fleeing, he again bound the mother and son together with handcuffs.
His next home invasion occurred July 2nd in Arcadia. Mary Louise Cannon, 75, was beaten unconscious with her bedside lamp. He then retrieved a large kitchen knife and repeatedly stabbed her until she was dead.
Three nights later, he entered a Sierra Madre residence where he found 16 year old Whitney Bennett asleep. Repeatedly striking the teen with a tire iron, Ramirez went to find a kitchen knife but failed, returning with an electrical cord to strangle her instead. Whilst the cord was wrapped around the girl's neck, it began creating sparks. Surprised, The Nightstalker fled the scene, later claiming it was an intervention from Jesus Christ that had saved her. Bennett required extensive surgery to repair the damage from the tire iron, including 478 stitches in her scalp.
Once again, The Nightstalker preyed upon residents of Monterey Park. On 7th July 1985 Joyce Lucille Nelson, 61, was beaten to death by Ramirez whilst he burgled her house. The beating was so brutal, he left the same shoeprint found outside the Zazzarra residence on her face.
The same night, Ramirez drove around before finding himself back in Monterey Park outside Sophie Dickman's house. Breaking in, he attempted to rape the 63 year old. After ransacking her house he made her swear on Satan that there was nothing else of value hidden anywhere before leaving.
His next victims lived in Glendale. Lela and Maxon Kneiding (66 and 68, respectively) were asleep in bed the night of July 20th 1985. Ramirez had brought a weapon with him this time, a machete. He hacked the sleeping couple multiple times, finally killing them both with gunshots to the head. He then robbed the house and fled.
Very early hours the next morning, he had driven to Sun Valley and was breaking into the Khovananth residence. Once in, he immediately shot Chainarong Khovananth in the head, killing him. His wife Somkid, was brutally raped, beaten and sodomized then forced to "swear on Satan" that she had shown him everything valuable they owned. He left her alive, where she immediately un-bound her eight year old son before ringing police.
It was August 6th when he struck again, this time in Northridge. Virginia (27) and Chris (38) Peterson were both shot in the face/head when Ramirez broke into their house. However, The Nightstalker was met with some resistance and struggled with Chris, firing off two more shots (both missing either target) before fleeing. The Peterson couple survived their meeting with The Nightstalker.
Two days after the last home invasion, Ramirez broke into the Abowath residence in Diamond Bar. Elyas Abowath, 31, was killed instantly whilst asleep via a single shot to the head. His wife, Sakina, 27, was handcuffed, forced to "swear on Satan" as to the location of any valuables, before being beaten and raped. Their 3 year old son was woken by the commotion and bound whilst Ramirez sexually assaulted Sakina again.
The Nightstalker changed location to San Francisco Bay for his next crime. August 24th he entered Peter and Barbara Pan's house. 66 year old Peter was shot in the head and died instantly. His wife, aged 62, was raped, beaten and also shot in the head. Using lipstick he drew a messy pentagram on a wall along with the words "Jack the Knife". Barbara Pan survived the attack.
After police had matched the Nightstalker crime scene shoeprints to the attack in San Francisco, this information was made public by the San Francisco mayor. Ramirez promptly disposed of the sneakers.
Bill Carns, 30, and Inez Erickson, 29, were asleep the night of August 24th 1985 when Ramirez came into their bedroom after breaking in to their house. He had driven around the block multiple times before making the decision that their residence would be his target.
Bill was immediately shot multiple times in the head, whilst his fiancée Inez was bound and led round the house, Ramirez forcing her to show him where all the valuables were, making her "swear on Satan" that she wasn't hiding anything. He raped and sodomized her before he left, announcing that she should "Tell them the Night Stalker was here."
A young teenage neighbour had spotted Ramirez's vehicle (which he had stolen prior to this crime), and made note of the license plate. When the crimes were investigated the next day, his description of the car and it's driver enabled police to link the missing vehicle to the crime. The vehicle was found abandoned a few days later, with a single fingerprint. That fingerprint belonged to Richard Ramirez.
Capture
The police now had a strong suspect and printed his details and photo in newspapers. Ramirez however was not following the news at this point; he had made the trip to see a family member in Arizona. It wasn't until his return to LA on August 31st that he spotted himself on the front page of almost every newspaper.
The surrounding public at the Bus Station where he'd arrived back from his trip to Arizona quickly identified him and chased after him as he fled. He was eventually caught by local residents of the area and pinned down until police arrived to arrest him.
His first court appearance caused some controversy when he entered, exposing a pentagram drawn onto his palm he proclaimed his worship of Satan.
Trial and Death
After four years, his trial ended with him convicted of all charges. 13 murders, 5 attempted murders, 11 sexual assaults and 14 burglaries. He was sentenced to death on November 7th 1989.
Ramirez spent more than two decades on California's death row. He died due to complications brought on by B-cell lymphoma on June 7th 2013.
Aftermath
Richard Ramirez (as well as Ted Bundy), brought a strange phenomenon into the public light after their capture. Women that harboured a strong sexual attraction for these convicted rapists and killers. The correspondence these men received in prison was unprecedented. A "condition" now known as hybristophilia, it is also known as "Bonnie and Clyde" syndrome.
Follow us on social media to receive updates. In a soon to come blog post I will be explaining some of the reasons why women desire to be with convicted murderers and other criminals they have never met.
Read Similar Serial Killer Articles