Ian Brady & Myra Hindley Mugshots
By Source, Fair use, https://en.wikipedia.org/w/index.php?curid=15169059
Ian Brady & Myra Hindley
The Moors Murderers
Summary
"Where is Keith?" The question that had been everyone's number one priority given Brady's recent ill health, before his eventual passing 15th May 2017.
Brady took the location of Keith Bennett's body to the grave. His body now unlikely to ever be discovered.
Ian Brady and Myra Hindley became known as "The Moors Murderers" after it came to light they had perpetrated at least five murders, where three were discovered buried on Saddleworth Moor near Manchester, England.
Brady's Childhood
Born on January 2nd 1938 as Ian Duncan Stewart, an illegitimate child, his mother was a waitress in Glasgow. He never knew his father.
Societal pressures and the embarrassment of having an illegitimate child, as well as a lack of money forced his mother to give him up to the local Sloan family. His birth mother remained in contact with him whilst he was growing up.
Ian Sloan (as he was known during childhood), was above-average in school and would have achieved well had it not been for his bad behaviour and disinterest in education.
He got in trouble with the law various times as a teen, before finally, at age 17 was given probation on the condition he leave Glasgow and live with his birth mother, whom had by this time moved to Manchester and married a man named Patrick Brady.
It was whilst living in Manchester, and after taking his stepfather's last name, that Brady served his first prison sentence. Still under 18, he received two years in what is now known as a young offender's institute, for stealing.
Hindley's Childhood
Born in Manchester, England, on July 23rd 1942. Her father had served in the army during The Second World War, and raised her to be tough. Both parents often beat her as a child.
Not long after Myra's younger sister was born, she was sent to live with her grandmother elsewhere in the city, though had regular contact with her parents. She was five years old at the time.
At eight years old Hindley had an altercation with a local boy her age and returned to her parent's crying. Her father demanded that she go back and punch the boy or he would punish her. She went and did just as her father requested.
When Hindley was 14 one of her best friends died whilst swimming in a nearby reservoir. Hindley was traumatised by this event, and blamed herself for not being there, as she had declined the offer to go with them.
Their First Meeting
Brady was already working at Millwards when Hindley joined the company in early 1961. She quickly became infatuated with him. Writing in a diary about him often, though they didn't speak for six months.
It was almost a year after Hindley joined Millwards that Brady asked her out on a date. For a few months, the dates consisted of seeing an X-rated movie before returning to Hindley's house to drink alcohol. It wasn't long until Brady had exposed Hindley to his love of Nazi reading material and the couple grew closer over this subject.
Hindley took to making herself look more "Aryan", and the pair were often found at the library reading books on Nazi atrocities, crime and torture. At home they made many plans to commit bank robberies together – though none of these were ever carried out.
Brady thought of himself as a bit of a photographer and with little persuasion, Hindley became the model for his photos. In fact, Brady had created a rudimentary dark room, and was able to develop photos at home. These included "explicit" photos of Myra.
Around 18 months after their first date, Brady, instead of the usual bank robbery plan, started making a plan to commit the "perfect murder".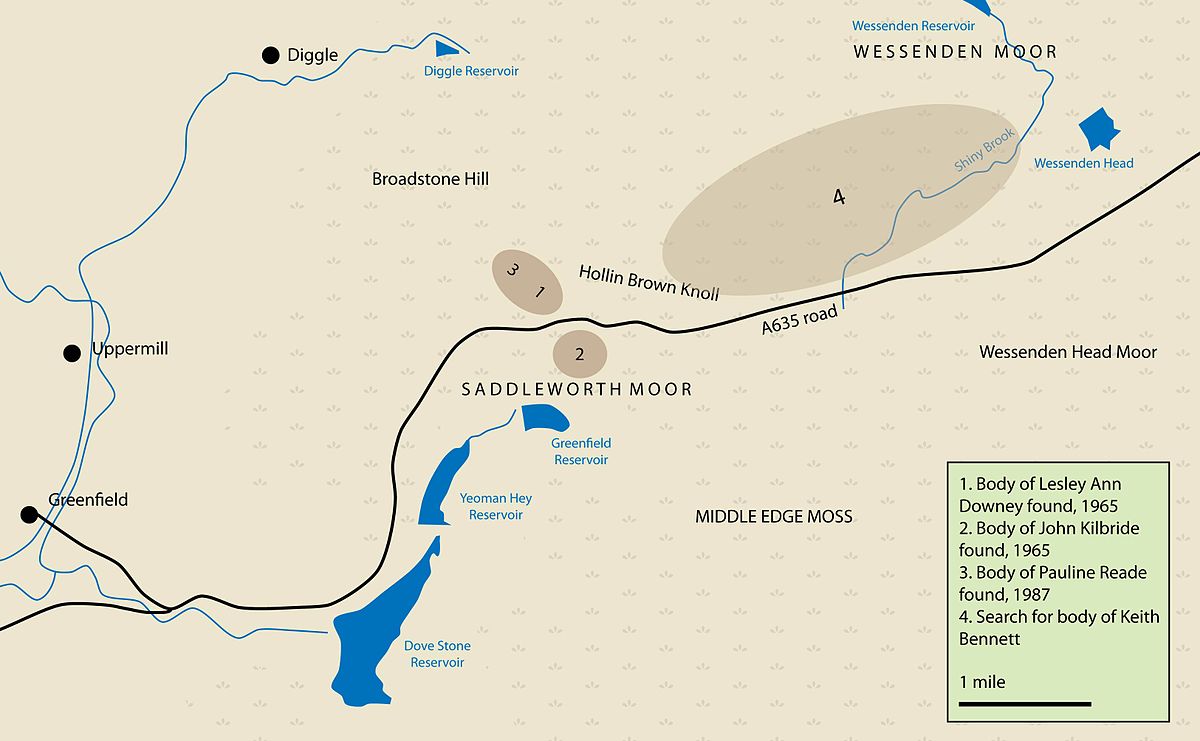 By Parrot of Doom - Own work. Based on a map reproduced between pages 96 and 97 of Topping, P (1989), Topping: The Autobiography of the Police Chief in the Moors Murder Case, Angus & Robertson, isbn 0-207-16480-0, Public Domain, https://commons.wikimedia.org/w/index.php?curid=7949389
Moors Murders
By July 1963 Brady and Hindley were living together, and were about to carry out their first murder.
Pauline Reade was 16 years old when she was enticed into a minivan by Hindley. It was July 12th 1963 and Myra was travelling alone when she pulled up alongside Reade asking for help to search for a glove she had lost on the Moor. Brady was following them on his motorcycle. Brady had signalled to Hindley to pick up the girl by flashing his lights at the minivan.
Brady arrived soon after the women had reached their destination. Both out of the van looking for a glove that didn't exist, Brady pounced on the teenager, raping her. He smashed her skull with a shovel before almost decapitating her with a slash to the throat.
Reade was buried close to the spot where she perished, but her body wasn't recovered until Brady confessed to the murder over two decades later.
On November 23rd the same year, 12 year old John Kilbride was lured by Hindley into her car. She drove the two of them to Saddleworth Moor where they met Brady. Brady told Hindley to take the vehicle and go wait in the next village down the road. After failing at stabbing the boy, he was strangled with a piece of rope before being buried.
Thousands of volunteers searched for the missing boy but to no avail. In the meantime, Brady was taking pictures of Hindley standing on the young boy's shallow grave.
Their third victim was Keith Bennett. Another 12 year old boy. Again Hindley drove alone, enticing the youngster into her vehicle, Brady following. Brady's confession revealed that Hindley had stood on Saddleworth Moor and watched him sexually assault then strangle Bennett. The date was June 16th 1964.
Keith's body has never been found, the only Moors Murder victim never to be recovered.
Boxing day 1964 Hindley escorted her grandmother (whose house she and Brady were living in), to a relative's house. That same evening 10 year old Lesley Ann Downey disappeared from a fairground in Ancoats, Manchester.
Hindley picked up the girl and drove her back to the house, where the young girl was subject to sexual assault from Brady. The rape was recorded on audio cassette by Hindley and later used as evidence against the pair. Brady also posed the bound and nude child for explicit photographs.
The next morning they drove the already dead girl to Saddleworth Moor and buried her. It is believed that Brady carried out the murder.
The fifth and final victim was Edwards Evans, 17. Invited back to their house, where Hindley's 18 year old brother-in-law David Smith was visiting. Brady took no time in attacking Evans, battering the teenager's head in with an axe. Brady ordered Smith to assist in moving the body upstairs and help clean up. Scared for his life, David ran out the door as soon as he had the opportunity, and contacted police.
Trial and Imprisonment
Ian Brady and Myra Hindley only just "missed out" on the death penalty by a few months. Their trials started after the abolition of the death penalty in England.
On May 6th 1966, Brady was found guilty of three counts of murder (John Kilbride, Lesley Ann Downey and Edward Evans) and was sentenced to life imprisonment.
Hindley was found guilty of two counts of murder (Lesley Ann Downey and Edward Evans) as well as a concurrent seven year sentence for harbouring Brady in connection with John Kilbride's murder.
Brady had confessed to Edward Evans murder, but refuted that Hindley had any part in it.
He would not confess to the murders of Pauline Reade and Keith Bennett until 20 years later in November 1986 – Reade's body was recovered early the following year.
Myra Hindley quickly became one of the most hated women in Britain after she launched multiple appeals against her sentencing, often telling of how she lied in her statements.
Myra Hindley died from bronchial pneumonia in prison on November 15th 2002 aged 60.
Over 20 local undertakers refused the business of her cremation.
Ian Brady spent 19 years in a prison before he was diagnosed as a psychopath and moved to Ashworth Psychiatric Hospital.
The last decade or more of Brady's life, he often stated that he just wanted to die. As a person under mental health care Brady was force fed when he attempted hunger strike, or to starve himself to death.
In 2012, he requested to be returned to a mainstream prison, his request was denied.
Ian Brady died from restrictive pulmonary disease in Ashworth Hospital on May 15th 2017.
Read Similar Serial Killer Articles