Full Biography
Born as Aileen Carol Pittman to Diane Wuornos and Leo Dale Pittman in Rochester, Michigan on February 29, 1956.
Her older brother, Keith, had been born almost a year earlier on March 14, 1955.
Her father was incarcerated at the time of her birth, she would never meet him and after being diagnosed with schizophrenia and convicted of sexual crimes against children would go on to hang himself in prison on January 30, 1969.
At nearly 4 years old Aileen and her brother who was 5 at the time, were abandoned by their mother Diane, and left to be brought up by their maternal grandparents, Lauri and Britta Wuornos. They would be legally adopted a few months later.
Wuornos began exchanging sexual favours during school for cigarettes and drugs before the age of 11. Her brother and she had also engaged in sexual activities.
Wuornos claimed that her Grandfather would make her strip naked before beating and sexually assaulting her.
An accomplice of her Grandfather raped her at age 14, a consequence of which was that she became pregnant, giving birth to a son March 23rd 1971. He was put up for adoption, Wuornos never had any part in his life.
She would drop out of school early a few months later, her Grandmother passed away from liver failure on 7th July 1971.
The next year Wuornos's Grandfather threw her out the house, Aileen turned to prostitution to support herself.
May 27th 1974, Wuornos was arrested for driving under the influence, disorderly conduct and firing a gun from a moving vehicle. Later she was charged with failure to appear.
Wuornos moved to Florida in early 1976 and marry 69 year old Lewis Gratz Fell March the same year. Fell was a well-known member of society in the area, their wedding being published in the local newspaper.
However, the peace between the two newly-weds did not last long due to Aileen's confrontational behaviour, she spent time in jail for assault and Fell took out a restraining order against her after she hit him with his own cane.
14th July 1976 she moved back to Michigan where she was soon arrested for assault and disturbing the peace in Antirim County.
3 days later her brother died of oesophageal cancer, his life insurance paid out to the sum of $10000 to Aileen.
July 21st Fell and Wuornos annulled their short lived marriage.
The next month Wuornos paid a $105 drunk driving fine using the inheritance from her brother before splashing out on luxuries with the rest of it, including a new car that she crashed not long after purchase.
1981, May 20th Wuornos was arrested in Edgewater Florida for armed robbery, the score of the robbery was $35 and some packs of cigarettes.
She received a prison sentence nearly a year later, and released June 30th 1983.
On the first day of May 1984 Wuornos was arrested for trying to pass fake cheques.
November 30th 1985 she was suspected in the theft of a revolver in Pasco County, Florida.
Wournos was arrested in Miami on January 4th 1986 and charged with car theft, resisting arrest and obstruction of justice. On inspection of the stolen car police officers would find a .38 calibre revolver and ammunition.
6th June 1986 in Volusia County she was questioned after being accused of demanding $200 from a male after pulling her gun on him in his car. Police discovered a .22 calibre pistol under the seat she had been sat in in the car.
In the next few months Aileen met Tyria Moore at a Daytona gay bar, the two would later move in together. Both were arrested July 4th the following year after accusations they were involved with an assault and battery using a beer bottle.
Following a confrontation on 12th March 1988 with a bus driver, she filed assault charges against him with Moore as a witness.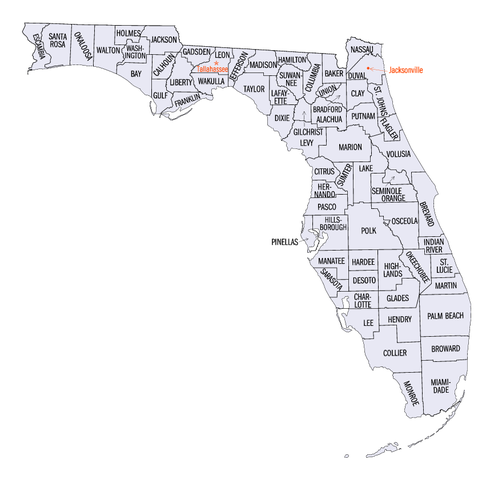 By United States Census Bureau - [1], Public Domain, https://commons.wikimedia.org/w/index.php?curid=2762800
Her first known victim was Clearwater, Florida resident Richard Mallory, 51.
Wuornos claimed that he tried to rape her after picking her up on 30th November 1989, and that she shot him in self-defence. She left him with three bullet wounds near the I-95 in Volusia County and made off with his Cadillac. The car was recovered a few days later after being abandoned. Mallory's body was discovered 2 weeks after his death.
On June 1, 1990, another body was found, this time along Highway 19 in Citrus County. A week later he would be identified as David Spears, 43. He had been missing since 19th May.
Found nude except for a baseball cap, Spears had perished from six .22 caliber gunshot wounds. Wuornos had again taken off in her victim's vehicle and abandoned it some distance away.
Before Spears could even be identified another victim was found. 40 year old Charles Carskaddon had been murdered on May 31st 1990. Badly decomposed, the nude body had nine bullet wounds and was cautiously linked to the previous victims. He was found 6 June, near Interstate 75.
Just under a month later Wuornos crashed the car of her latest victim, Peter Siems. Wuornos and Tyria Moore were spotted leaving the scene of the accident and a description given to police. Peter Siems had been missing since June 7th and the inside of the crashed vehicle showed signs of a struggle, with both Moore and Wuornos left multiple fingerprints inside the car. Whilst Siems' body has never been found, Wuornos later admitted to his murder.
The day after his employer reported him missing, Troy Burress's delivery truck was found abandoned July 31st 1990. His body was discovered a few days later in Ocala National Forest, he had been shot twice. He was 50 years old when he died.
Former Police Chief Dick Humphreys was next to lose his life to Aileen Wuornos. He was found fully clothed on September 12, 1990, shot seven times with a small calibre pistol.
His body was discovered in Marion County whilst his car had been taken and left in Suwannee County.
The final victim was 60 year old Walter Antonio, found naked in Dixie County on 19th November 1990, shot 3 times in the back and once in the head, he had been killed less than 24 hours prior to his discovery.
By the end of 1990 Police had good leads in the case and two stand out suspects; Tyria Moore and Aileen Wuornos (her multiple aliases being connected to her) they were eventually both tracked down.
Once charged with murder, initially being arrested on a lesser, not connected crime. Police convinced Moore to get Wuornos to confess, allowing her to get off the accomplice charges. Wuornos eventually agreed to this and confessed to six of the murders, saying she had committed them all without aid from Moore.
Within a fortnight Wuornos had sold the film rights to her life story, believing this would make her rich, not knowing about the Florida law that prohibits profiting from crimes in this way. Her lawyers however, not restricted by this law were negotiating their own film deals.
By 1993 Aileen Wuornos had received six death sentences, one for each murder charge, as Peter Siems' body was never found, his murder was never charged against her, though she did confess to the crime.
Wuornos was vocally paranoid about her treatment in prison, believing that prison officers were deliberately psychologically abusing her, as well as tainting her food.
Aileen Carol Wuornos was executed via lethal injection at Florida State Prison on October 9th 2002.
She was the tenth woman to be executed in the United States since capital punishment was reinstated in 1976.
Aileen Carol Wuornos was executed via lethal injection at Florida State Prison on October 9th 2002.
She was the tenth woman to be executed in the United States since capital punishment was reinstated in 1976.